Welcome to the Porsche 356 Tub Club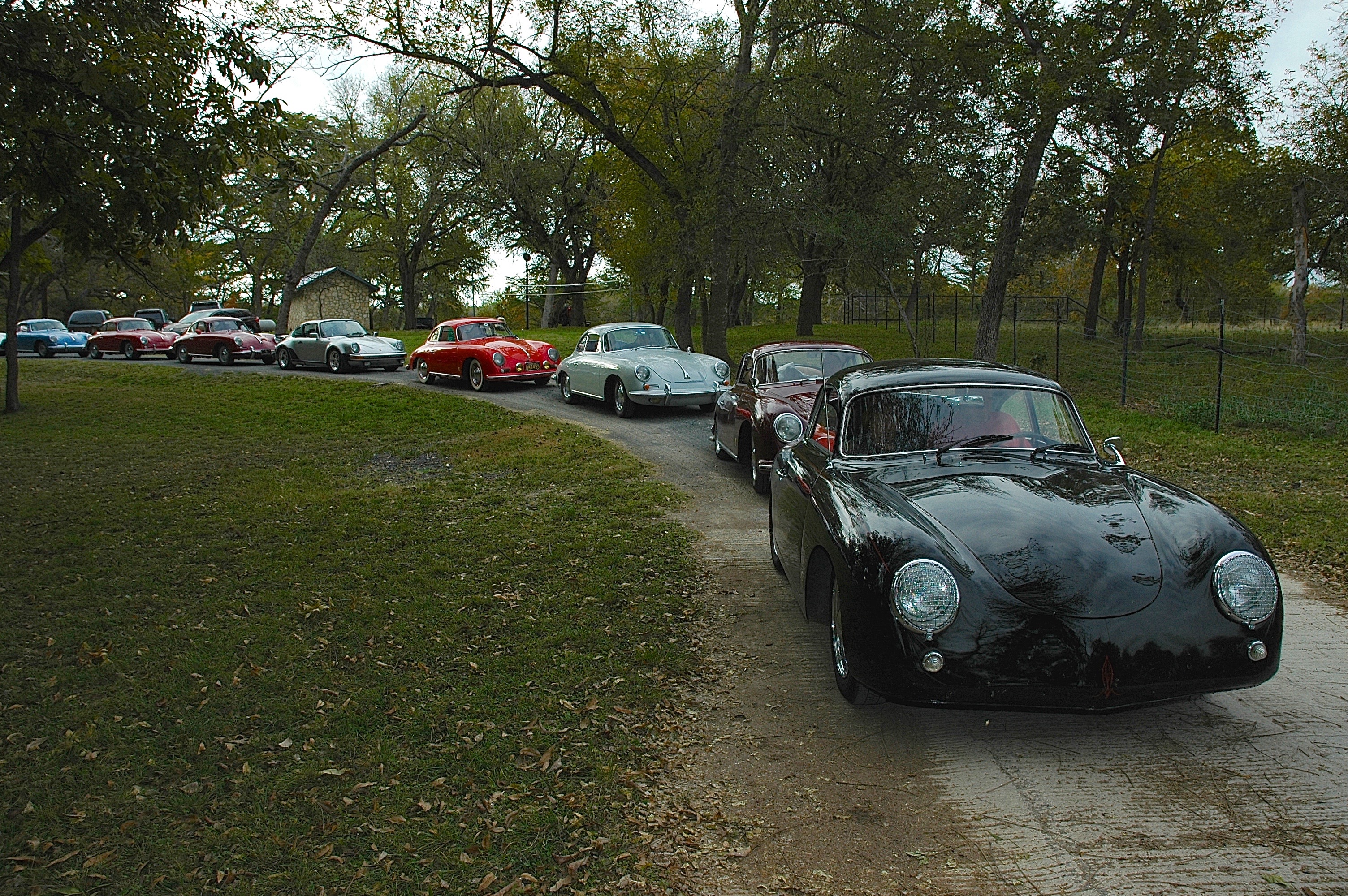 Club History
The 356 Tub Club started in 1988 when a group of 356 Porsche enthusiasts, wanting to enjoy, maintain or restore their Porsches, met at Zim's Autotechnik in Bedford TX. Club activities include monthly breakfasts, tours, swap meets, tech sessions and shop visits. Weekend tours may be planned in the spring and fall.The club has no formal organization, constitution or bylaws.
Anyone with an interest in Porsche 356s, or for that matter any Porsche engineered vehicle, is welcome .
There are about 80 members, mostly from North East Texas, Oklahoma and Arkansas.
The club has no affiliation with the Porsche 356 Registry, the Porsche Club of America (PCA) or the Maverick Region of PCA.
Tub Club Calendar of Events for 2020
Saturday March 14th
Lunch at F & F Express, 1415 State Street, Richardson
Tour to Eurowerks, 2324 TX-24, Campbell 75422; The day will start with a rendezvous for breakfast, the drive to Eurowerks for a tour of Roy's shop then lunch and the drive home.
Saturday May 2nd 2:00 PM
May at Mayo's
Breakfast at Bacon's Bistro, 714 Grapevine Hwy A, Hurst 76054 (817) 514-6301
Saturday July 11th 9:00 AM
Breakfast at the Swiss Pastry Shop
Breakfast at Tierney's, 208 E. Main Street, Lewisville.
Saturday October 10th 9:00 AM
Breakfast at Raven's Grill Euless
Annual PCA Swap Meet at Zim's Autotechnik
Thursday March 26th-Sunday March 29th
Tour to VW Club Show Nacogdoches
Dinner at Greenwoods German Restaurant, 3522 Bluebonnet Circle, Ft Worth (817) 921-6777.
Saturday May 9th 9:00 AM
Breakfast at the Swiss Pastry Shop
Wood, Waves and Wheels Show hosted by the Eagle Mountain Classic Boat Club at Ft Worth Boat Club, 10000 Boat Club Rd, Ft Worth
Saturday August 8th 9:00 AM
Breakfast at Tierney's Lewisville
Sunday November 8th 10:00 AM
Breakfast at Willhoite's Grapevine
Breakfast at the Harwood Café 109 W. Harwood Rd, Hurst (817) 285-1623.
Saturday April 11th 4:30 PM
Dinner at Greenwood's German Restaurant Fort Worth
May at Mayo's, 1521 Baccarac Court, Euless (817) 540-4939 Date is tentative – will confirm with Mayo's as soon as possible.
Tuesday May 12th - Saturday 16th
356 Ultimate Driving Tour Vermont/New Hampshire
Breakfast at Cartwrights, 111 North Elm Street (on the Square), Denton
(840) 387-7706.
Wednesday August 26th - Sunday August 30th
356 Registry West Coast Holiday Bend Oregon
Breakfast followed by a drive to a location TBD for Drive Your 356 Day photos. 
Sunday December 6th 12:00 Noon to 3:00 PM
Tub Club Christmas Dinner and 2021 Planning Meeting
Breakfast at Willhoite's, 432 S. Main Street, Grapevine
(817) 481-7511.
Saturday and Sunday May 2nd and 3rd
Keels and Wheels
Keels and Wheels, Lakewood Yacht Club, Seabrook, TX (keels-wheels.com)
Saturday June 13th 9:00 AM
Breakfast at Cartwrights on the Denton Square
Breakfast at the Swiss Pastry Shop, 3936 Vickery Blvd, Ft Worth 76107.
Saturday September 12th Breakfast Followed by Drive Your 356 Day Tour/Photo
356 Registry West Coast Holiday, Flagstaff, AZ.
Saturday Jan 9th 2021 9:00 AM
Breakfast at the Swiss Pastry Shop
Tub Club Christmas Dinner and 2020 Planning Meeting – Leo and Marlen Hudson's Home in Argyle.